Family,
Following the directives issued by federal, state, and local agencies,
we will not meet for worship service this Sunday, March 29
. While we recognize the importance of our worship gatherings, we prioritize the health and safety of people who attend our church and those in our community at-large. We want to do our part in being good neighbors.
As we receive updated information, we will make decisions about the status of worship services for future weeks. If you don't currently receive the weekly email that comes from me every Friday, you can
sign up for that list here
, to ensure you're getting our latest updates. This webpage will also be kept up to date.
SUPPORTING PEOPLE IN NEED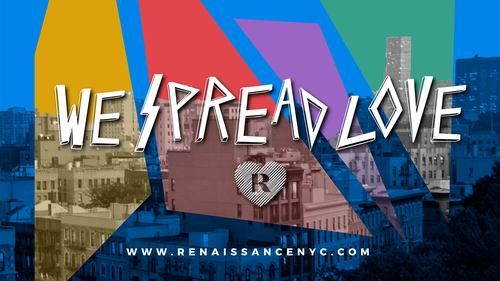 While many of us are inconvenienced by the changes to our schedules, we are mindful of everyone who will face significant health, financial, and security challenges in this time. On Sunday, March 22, we announced our We Spread Love campaign to benefit our neighbors in need.

While we're all working to "Stop the Spread," we also want to find meaningful ways that "We Spread Love."

Find out how you can request help or give to support others.
WATCH SUNDAY'S SERVICE ONLINE
Although we won't gather in person, you can watch our service online beginning at 9:00 a.m. EDT on Sunday, March 29! You have several ways to view the service:
For those of you with children who participate in
Renaissance Kids/Middle School Ministry
, find resources to recreate Sunday's lesson at home on
our Renaissance Kids Online page
.
Additionally, we've created two
Spotify music playlists
-- one featuring Renaissance Church favorites and another designed to bring calm in times of uncertainty.
Click here to listen
.
In addition to the cancellation of larger gatherings, health officials advise that social distancing is one of the best protections against the spread of COVID-19. To that end, we're asking our Community Groups to meet virtually for the month of March. The mayor's office has asked faith leaders to create safer means for spiritual practice and meaningful connection as best we can. To that end, we encourage Community Groups to meet online and to support each other via digital tools like Google Hangouts, Zoom, GroupMe, and WhatsApp.

Let's ensure we are bearing one another's burdens, covering each other in prayer, and pointing each other back to Jesus.

If you're not following us on social media, now is a great time to connect with us, as we post regularly.
All other previously scheduled March events, including our CREW Fair, Art, Sounds + Life, and our Membership Class are postponed. The launch of a third service, which was scheduled for Sunday, April 5, is also on hold.